Raffles Surabaya joined the Surabaya Fashion Week 2015 at Grand City Mall on Friday, October 10, 2015. The Surabaya Fashion Week is an event held every October, this year celebrating the city's 722nd anniversary.
At this event, Raffles Surabaya presented mini collections from students and lecturers. This included Vania Tedjokumoro's "In and Out to love" collection for Autumn/Winter, inspired by most people hate death, because death always being related to something scary, horror, and sad. But Damien Hirst, a British artist did prove it by using the 'dead' themselves, he succeeded in combining beauty and horror. It was all started in his exhibition 'In and Out of Love' where he first showcased his butterfly works. Then he started to put 9000 dead butterflies as a beauty artworks. Inspired by his works, through this collection I recreate the concept of beauty and horror in my own aesthetic.
Sari Poetronegoro, a Raffles Surabaya lecturer, also exhibited her new collection, ".Allegoria Della Primavera or Allegory of Spring" by Sari Poetronegoro features a collection which was inspired by one of Italian Rennaisance painter Sandro boticelli's masterpiece 'primavera'.
The painting which depicts the goddess of flower welcoming spring was translated into the collection by using floral print fabric with elaborate chiffon and brocade manipulation that creates foliage like details. This SS2016 collection bring a sense of elegant in the silhouette and a fun mix and match concept ,where each piece can be worn with another piece from the collection to create a unique style
Vania Tedjokumoro's collection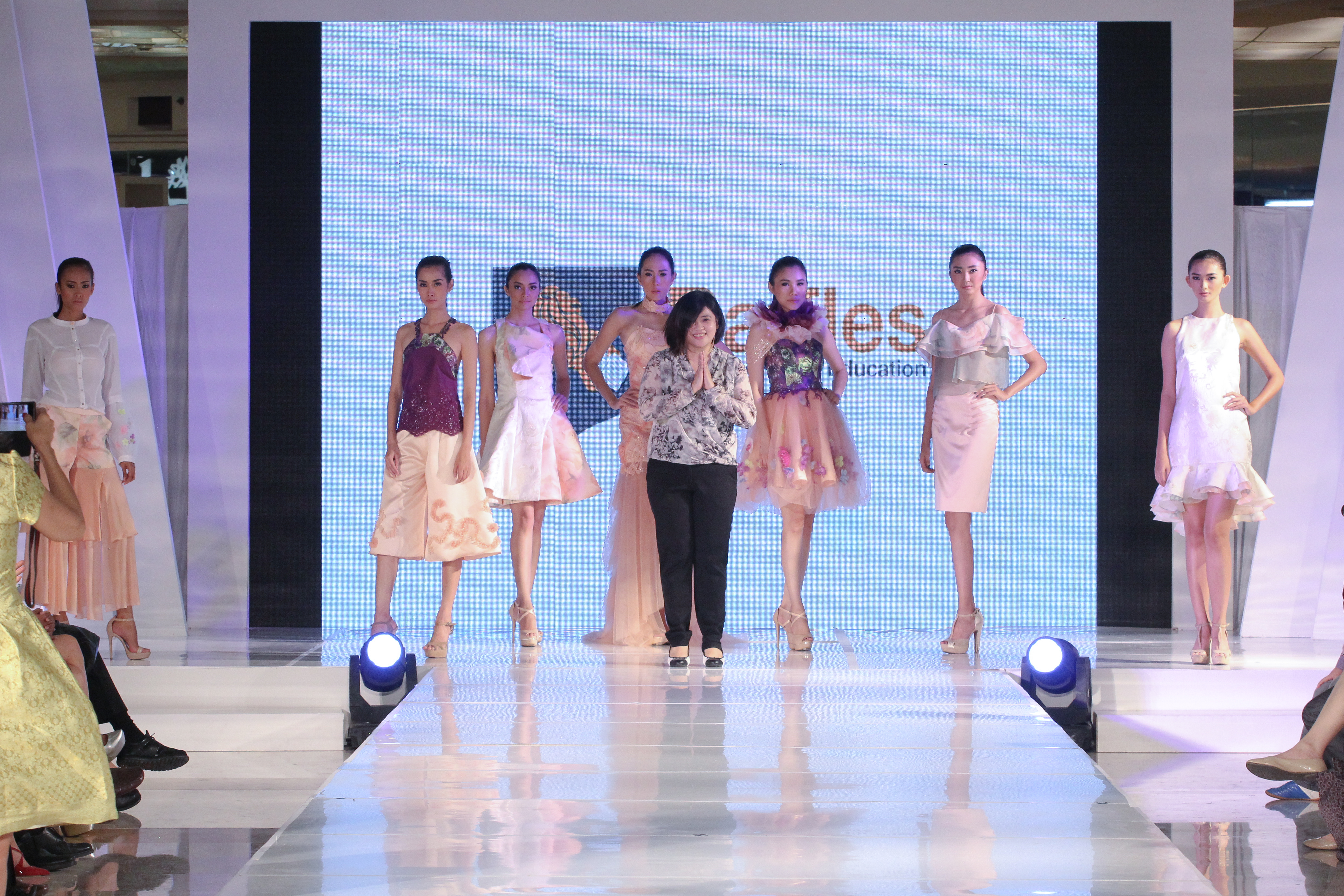 Sari Poetronegoro's collection
Felinda's Collection
Collection of Christina Tanujaya
Raffles Surabaya - Surabaya Fashion Week
Christina Tanujaya also presented her "Accent De Aur " Feminine, sexy, and versatile: this is how Christina Tanujaya combines neutral colors (nude and black) with a touch of maroon and gold. White lace as a complementary application reinforces the feminine impression. Accent De Aur theme which referred to gold accent is adapted from Midas touch and Grecian Roman style. It is a luxurious floral fabric gold that becomes the vocal point of the collection.
Roman clothing is simple, elegant, practical, and comfortable. Usually, the clothing is belted with sash at the waist. It is also based on geometry shapes such as square, rectangle, triangle and circle. The collection featuring belted asymmetrical draped dress, rectangle tops, modified circular ruffles dress, belted asymmetrical wrap dress with a bow accent, and column skirt. Organza, nude tulle, and slit are showing skins that exhibits sensuality and modernism.
Felinda presented her "Utopia" collection is where there is no doubt about right or wrong Utopia is when elegant solution presents itself to a complex problem Utopia is how rigid lines combines with flexible curves Utopia is a form of unity Utopia is now